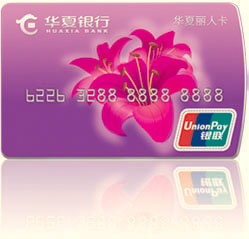 A multi-account, multi-currency, multi-functional payment instrument issued to all women executives in China. Hua Xia Sinobeauty Card is the featured card of Hua Xia Bank.
Features:
Value-added service, free to join
All the promotional events or activities organized by Huaxia Bank are waiting for Sinobeauty cardholders to join. Get all the offers and enjoy all the friends.
Third party depositary, safe and reliable
Sinobeauty cardholders have the option to choose Hua Xia Bank as the third party depositary bank during settlement of securities transactions. The service and convenience to cardholders in drawing funds in and out of the account and protects the cardholders' monies from being embezzled.
Buy/Sell gold on personal account, protect net worth and add value
Sinobeauty cardholders use Hua Xia Sinobeauty Card to open a (Shanghai Gold Exchange) gold trading account card at any Hua Xia outlet. The trading card can be used to buy/sell gold, clear and settle the funds, or draw physical gold from the warehouse, fast, easy. Service is available through many channels. Low fee, official quote on gold prices. Anytime spot gold can be drawn and 'store in own place'.
FX terms savings, higher income
To Sinobeauty cardholder holding foreign currency of USD 10000 or equivalent, anytime she can use her valid ID card to open a FX terms savings at Hua Xia Bank. Interests accrued are far more than the FX fixed deposit of the same term same class.
Fund Supermarket, smart investment
Cardholders use Hua Xia Sinobeauty card and identity document to sign the agreement at any local Hua Xia outlet. Once completed, funds that Hua Xia Bank sold on behalf can be subscribed, purchased, and redeemed at any local Hua Xia outlet, Internet Banking or Customer Service Center (Phone Banking). Invest in funds can bring in considerable income.

Limit management, limit freely set on your own
Based on the Sinobeauty cardholder's application, Hua Xia Bank manage the cash advance, retail spending and transfer by the agreement card (principal card) and non-agreement card (supplementary card) for the purpose of good personal finance. Cardholders can restrict the type of transaction, type of merchants, limit of one transaction or recurring transactions.
Interest and Fee:
No banking charges collected on: replacement of card, annual fee (during promotion), report loss(during promotion), inter-city deposit to Hua Xia account at the Counter, cash withdrawal from Hua Xia accounts (ATM, at the counter in other city), inter-city transfer from Hua Xia card to Hua Xia card at the counter, inter-bank ATM enquiry inside China, SMS Alert on account information.
Applicable Clients:
Sophisticated women executives.
Service Channels:
Outlet counters, self-service banking, internet banking, phone banking, outlets with VIP rooms, priority pass as the outlets.
How to sign up?
Use personal valid identity document to deposit money and apply in person at the Hua Xia counter.
Note: This page is for reference only, part of the business to local outlets announcement with specific provisions prevail.