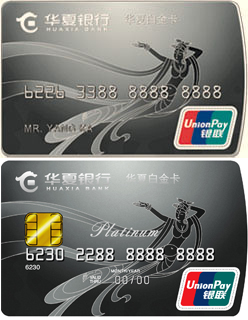 A multi-currency, multi-functional payment instrument issued to the top executives for cash deposit/withdrawal, transfer/settlement, spending/payment, no overdraft. Cardholders are entitled to all the VIP services as well.
Features:
VIP services besides all the services available in Hua Xia Classic Card.
Services:
Additional services as below besides the value-added services in Hua Xia Gold Card:

1. Financial services for going abroad (emigrate, study or invest overseas).
2. One-to-one wealth management service.
Professional suggestions and services from Hua Xia Financial Planners covering loan application, investment, financial instruments, taxation, law and inheritance. Wealth management plan tailored for each customer.
3. VIP Club for wealth customers.
Special saloon session (art appreciation, parent-child activity, red wine party, investment seminar and test drive.
4. Golf tournament
5. Free body check-up
Target Clients:
Top clients holding financial assets of the range between RMB 700,000 (inclusive) – RMB 7 million in Hua Xia Bank.
Service Channels:
VIP room, wealth management center, exclusive channel in phone banking, Internet Banking Wealth A/C.
Interest and Fee:
Same fee as Hua Xia Gold Card and favorable interest rate.

Use personal valid identity document and apply in person at our wealth management center, our wealth manager will help you to apply.
Note: This page is for reference only, part of the business to local outlets announcement with specific provisions prevail.