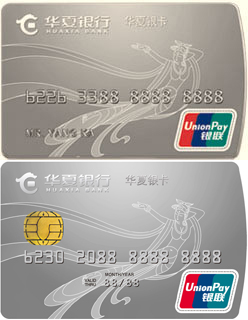 A multi-currency, multi-functional payment instrument issued to mid-and-high end customers of Hua Xia Bank for cash deposit/withdrawal, transfer/settlement, spending/payment. No overdraft. Cardholders are entitled to all the VIP services as well.
Features:
VIP services besides all the services available in Hua Xia Classic Card.
Services:
Extra services besides the financial services of Hua Xia Card:
Sales of wealth management products
Interest and Fee:
Free SMS alerts on the accounts apart from the discounted fees on the Hua Xia cards.
Target Clients:
Mid-and-high end customers. Individuals (identified by personal ID Card No.) holding financial assets of the range between RMB 50,000 (inclusive) – RMB 200,000 in Hua Xia Bank.
Service Channels:
Outlet counters, self-service banking, internet banking, phone banking, outlets with VIP rooms, priority pass as the outlets.
How to sign up?
Use personal valid identity document and apply in person at the Hua Xia counter.
Note: This page is for reference only, part of the business to local outlets announcement with specific provisions prevail.