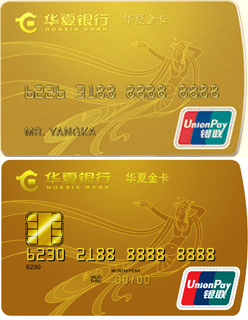 A multi-currency, multi-functional payment instrument issued to the top and middle executives for cash deposit/withdrawal, transfer/settlement, spending/payment, no overdraft. Hua Xia Gold Card is a pass to all VIP services.

VIP services besides all the services available in Hua Xia Classic Card.
Services:
(I) Basic Services
1. Redeem gift by bonus points.
2. 95577 reservation service (air ticket, hotel).
3. SMS for birthday greeting.
4. Wealth management seminar.

(II) Head Office VIP service
1. Medical health service using bonus points (appointment, expert doctors/special diagnosis, and discount package on body check-up).
2. Airport VIP lounge service using bonus points.
3. Free information services (new products, promotion offer, alert on mature fixed deposit/T-bond/loan, investment product manual, economic and financial news).

(III) Unique branch services for VIP (refer to announcement of local branch)
1. Car service
2. Practice ground for golf or tennis
3. Regular salon activities in VIP Club
4. Birthday gifts (SMS greetings, free coupon for birthday cake or flowers)
Fees:
Cardholders are entitled to the following besides discounted fees on Hua Xia Silver Card:
1. No banking charges collected on: cost of new card, replacement of card, annual fee (during promotion), report loss, mandatory change of password, inter-city deposit to Hua Xia account at the Counter, cash withdrawal from Hua Xia accounts (ATM, at the counter in other city), inter-city transfer from Hua Xia card to Hua Xia card at the counter, inter-bank ATM enquiry inside China, proof of personal deposit, certificate for carrying FX,SMS Alert on account information
2. Preferential loans offered by Hua Xia Bank
3. Up to 10% increase against benchmark interest rate for large FX savings
4. Enjoy a 10% discount or free of charge for opening L/C
5. Free of charge or discounted fee for rental of safety boxes.
Target Clients:
Top clients holding financial assets of the range between RMB 200,000 (inclusive) – RMB 700,000 in Hua Xia Bank.
Service channels:
Priority pass at the outlets, VIP room/counter at the outlets, exclusive channel in phone banking, Internet Banking Wealth A/C.
How to sign up?
Use personal valid identity document and apply in person at the Hua Xia counter.
Note: This page is for reference only, part of the business to local outlets announcement with specific provisions prevail.