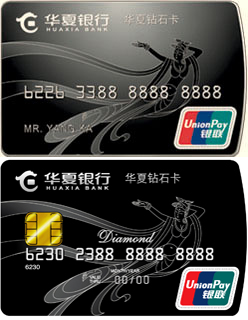 A multi-currency, multi-functional payment instrument issued to the top and middle executives for cash deposit/withdrawal, transfer/settlement, spending/payment, no overdraft. Cardholders are entitled to all the VIP services as well.
Features:
VIP services besides all the services available in Hua Xia Classic Card.
Services:
Additional services as below besides the services for the wealth customers of Hua Xia Platinum Card:
1. Dedicated "Butler-style" service.
2. One-to-one service attended by experienced financial planners.
3. Dedicated "N-to-1" service attended by private bankers, investment experts and private banking consultants.
Interest and Fee:
Same fee as Hua Xia Platinum Card and favorable interest rate, and:
Special offer on interest rate for deposit over USD 3 million (inclusive) or equivalent in other currency
Target Clients:
Top clients holding financial assets of over RMB 7 million (inclusive) in Hua Xia Bank.
Service Channels:
Private Banking Center
Use personal valid identity document and apply in person at our private banking center, our wealth manager will help you to apply.
Note: This page is for reference only, part of the business to local outlets announcement with specific provisions prevail.